Early Years Foundation Stage
At King's Meadow Academy we value the importance of Early Years Education as the beginning of a child's learning journey throughout school.
We are delighted to announce our opening of our Nursery setting  which offers a 26 place nursery in the mornings and an opportunity to access 30 hours if you are eligible.
Our Early Years Foundation Stage includes a 45 place Reception class.
Our EYFS has recently been accredited with Elklan's Communication Friendly Setting Status.
Nursery class: Buttercups
Reception class – Snowdrops
Early Years Leader & Reception Teacher – Mrs C Moore
Nursery Teacher –
Teaching Assistants – Mrs J Logan and Miss J Needham
We follow the Early Years Foundation Stage Curriculum. This has seven areas of learning: The three prime areas are Communication and Language, Personal, Social and Emotional Development and Physical Development. There are four specific areas of learning: Literacy, Mathematics, Understanding the World and Expressive Arts and Design.
The prime areas form the building blocks for learning and underpin all other areas.
Our curriculum is taught through topics which have been carefully chosen to engage and follow young children's interests. We provide high quality experiences that are engaging, motivating and relevant to our learners. These are based on an excellent knowledge of how children learn, their personal needs and interests as well as the curriculum.
We want to work alongside parents as their child embarks on their school journey. The children who do best in school are the ones who have parents who are interested and supportive of their child's learning. There are many ways that you can be involved and it is something we highly encourage. We offer parent workshops where you can learn about the curriculum and how you can help at home.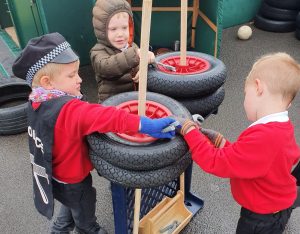 If you need to know any more about Early Years at King's Meadow, please do not hesitate to get in touch.